Auto Electric 4x4 Winch 5000lb CE Winch
Off Road 4X4 Vehicle Use
Standard: GB/T19001-2008----ISO9001:2008 ,CE
Electric : AC/DC 12V/24V
Powerfull & Safety

Rated line pull: 5000LBS(2268kgs) single line
Motor: 1.2kw/1.6HP (12V), permanent magnet
Control: Remote switch, 12ft (3.7m)lead
Gear train: 3 Stage Planetary
Gear reduction ratio: 218: 1
Clutch: Sliding Ring Gear
Braking Action: Automatic In-The-Drum
Drum Size: Φ 2.5"x5.5 (Φ 63.5x140m)
Cable: 9/32" of 66ft diameter (Φ 6.4mmx20m)
Remote Control: Included
Battery: Recommended: 650CCA minimum for winching
Battery Leads: 2 gauge, 72"(183mm)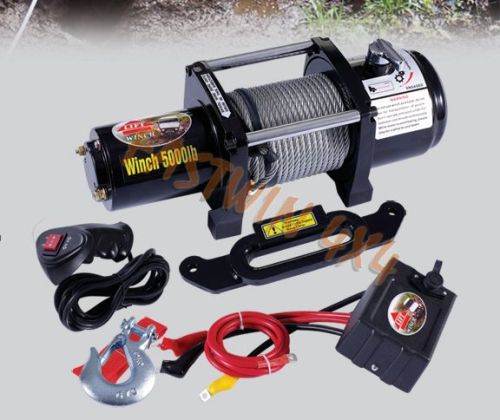 Finish: Black powder coat
Overall Dimension: 17.9"x6.1"x8.6 (456mmx156mmx215mm)
Mounting Bolt Pattern: 166.4mmx114.3mm
Weight: N. W. 26kgs G. W. 28Kgs
Packing size: 49x19x34.5cm 1PC/CTN

Winch Features:
"S" means series wound motor;
"I" means integrated solenoid box in a one piece design;
"E" means low-profile control pack mounted on the motor;
"C" means wireless remote control;
"W" means synthetic rope;
"P" means permanent magnetic motor;
"N" means overload protection function.

WE HAVE A GOOD COOPERATION TEAM & FACTORY PROCESSING ABILITY AS LONG YEARS EXPERIENCE!
IF U ARE INTEREST OUR BUSINESS LINE,PLS TRY TO CONTACT US ASAP!
FASWIN Packing Label:
Each Parts will be labeled Fastwin desigin
( Parts No.:+ Parts Name( Russian & Spanish & Arabic..)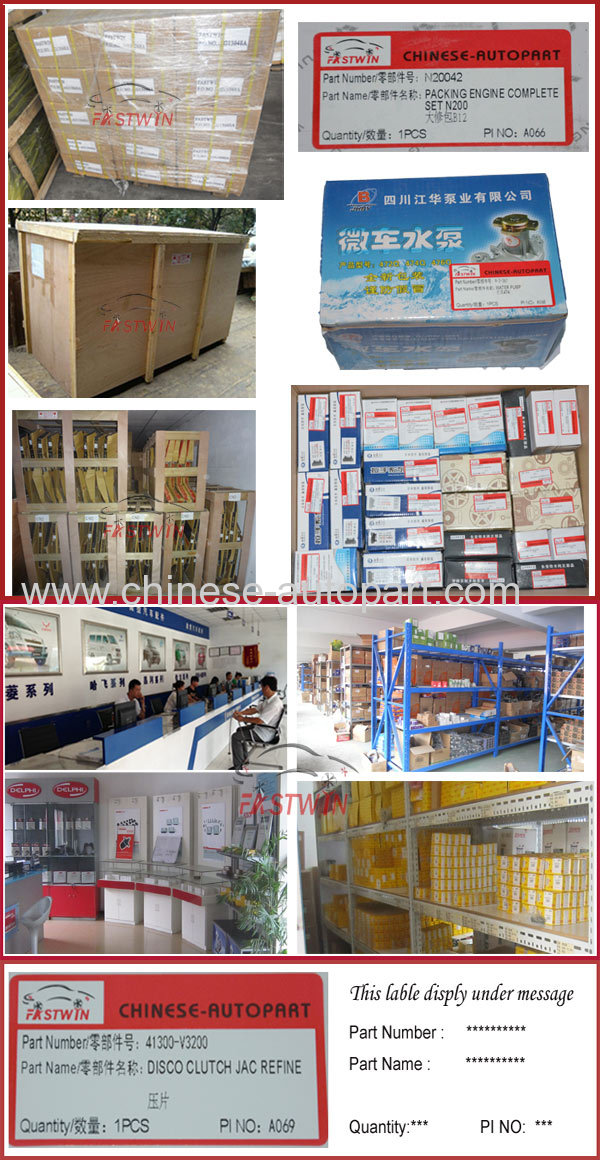 FASTWIN FAQ:
Q1: Which auto parts do Fastwin focus?
A1: We mainly deal Chinese brand vehicle
Hafei &Chana & Dfsk & Saic Wuling & Chevrolet N300 & Chery Karry
Chery & Geely & Lifan & BYD & Jac Veloce & Brilliance Auto Great Wall & Havel & Zotye & Dadi & ZX Auto.
JAC & Dongfeng & JM & ,Foton & Yuejin
Q2: What is FASTWIN MOQ?
A2: Our MOQ is USD5,000
Q3: What is FASTWIN payment terms?
A3: Air order: 100% T/T Advanced;
Sea order: We accept 30% T/T Advanced. 70% will be paid before shipping or L/C at sight
A4: How about the delivery time?
Q4: For air order: 7-10 days after receiving total amount
For sea order: 25~30 days after received 30% advanced
Q5: Will U help us to supply cataes with price list?
A5: As there are many car model with different cataes for Chinese
vehicles. The price is fluctuating frequently, so please send us detail
inquiry by excel list with english parts name & parts OEM number or
picture as you can
Q6: What's your warranty policy?
A6: 9 months warranty from the date of B/L.For long business.
We accept reasonable claim for aftermarket services!
Q7.: Which Markets are FASWIN Specially
A7.: We have good experience for Russian Markets, Middle-East Markets
& Latin America and so on
Q8: Can you sell chinese brand car parts with original packing or car
logo?
A8: Sorry to tell U. We prefer to deal business in a legal way based on
Intellectual property rights rules.
FAST OUR BUSINESS TOGETHER. WIN OUR TRUST AS DEEPLY!