Our company is a self-operated Import and Export enterprise, specialized in developing, producing and marketing shock absorbers. Since set up, our co mpany has already developed and produced more than 1000 varieties in batches, and more than 3000 specifications of automobile shock absorbers. And our products have been well sold to more than 80 countries and regions in Europe, Southeast Asia, Middle East, the South America, Africa, etc. Our products brand have been given the title of National Inspection-free Products. We also have successfully passed the ISO9001: 2000 International Quality Certificate and Certificate for Automotive Production Certification .And also strictly manage according ISO/TS16949 International Standards. We invested a huge amount of money in establishing a factory in Shaoxing in 2005, which have first-rate standard in producing shock absorber presently in china , and the it has be already completed and go into operation in 2007. The new factory has 72,000 squares, and area of the first phase of project reaches to 23,000 squares, having more than 300 employee.

The company bring in the equipment representing advanced international level from USA , Germany , Korea , Italy , Japan, to make sure that the annual output can reach to 5 million sets of shock absorber.

Our company sets up a Research Centre which contains 40 persons of engineers and technicians and professional administrative staff with medium and senior title, with strong design ability and developing strength. We enjoy the title of "Zhejiang Technology mid- and small-scale Enterprise", "Ruian High-tech Enterprise" and "Zhejiang Important Science & Technology Specific Projects Enterprise".

Our company insists on "with the quality strives for the survival, with the technology to strive for the progress" as our principle. And make great efforts to become the leading enterprise of China automobile shock absorber trade, produce world-class automobile absorber products, and put out high quality shock absorber constantly, according to customers' demands.

We sincerely welcome old and new customers to visit, guide, negotiate and cooperate with us to make the win-win situation.
FASTWIN are specially supplier of full auto spare parts for 30+ Chinese brand vehicle at Ningbo City, We mainly fouced chinese brand vehicle parts from 1998. Now We have grown to be the leader distributors & wholesalers of Chinese brand vehicle parts. For more details. Pls check below series:
A) Chinese Van & Mini Truck Parts ( Hafei & Chana & Dfm & Dfsk & Changhe & Saic Wuling & Chery Karry & Chevrolet N200 & N300 & Faw & Gonow Image & Huayang)
B) Chinese Suv & Pick-up Parts( Great Wall & Haval & Zotye Nomad & ZX Auto & Dadi & Shuguang & Tianma & Shuanghuan & Jmc/Isuzu & Gonow & Dongfeng Pickup & ZNA & Land Wind & Jonway & Luxgen & Hawtai)
C) Chinese Car Parts( Chery & Geely & Byd & Lifan & Brilliance Auto & Jac Veloce & Maple-SMA & Ssyangyong & MG Parts)
D) Chinese Truck Parts( Dongfeng & Jac & Yuejin & Faw & Jmc & Foton & Jbc & Baw & Sino-Truck & Howo & Shacman & Waw & Beiqi & Hino)
E) Chinese Bus Parts( Jinbei & Jac Refine & Iveco & Golden Dragn
Kinglong & Yutong Parts & Mudan & Higer & Maxus & AK Parts & Yaxing Coach & Huanghai Parts & Southeast)
F) Chinese Construction Machinery Parts ( Longking & Xugong & Xcmg & Liugong & Xiagong & Liugong & Shantui & Sdlg & Zoomlion)
Fastwin Advantages:
A) Focused chinese brand vehicle parts with 15 years' professional experiences
B) Auto parts exporter agent for many factory
C) More than 10000 square meters warehouse
D) Professional work team with excellent service & fast response in 24 hours
E) 100% accept if any claim happen as reasonable
F) Excellent package with label for each part & wooden package as required
G) Honor and honesty agreement with full of competitor prices
FASWIN Packing Label:
Each Parts will be labeled Fastwin desigin
( Parts No.:+ Parts Name( Russian & Spanish & Arabic..)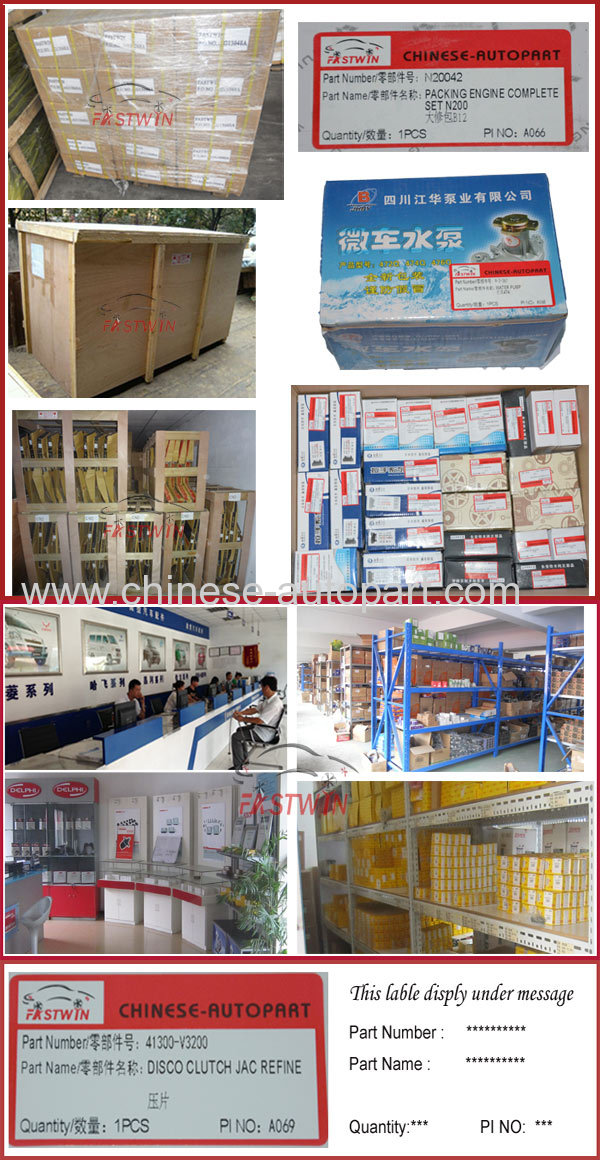 FASTWIN FAQ:
Q1: Which auto parts do Fastwin focus?
A1: We mainly deal Chinese brand vehicle
Hafei &Chana & Dfsk & Saic Wuling & Chevrolet N300 & Chery Karry
Chery & Geely & Lifan & BYD & Jac Veloce & Brilliance Auto Great Wall & Havel & Zotye & Dadi & ZX Auto.
JAC & Dongfeng & JM & ,Foton & Yuejin
Q2: What is FASTWIN MOQ?
A2: Our MOQ is USD5,000
Q3: What is FASTWIN payment terms?
A3: Air order: 100% T/T Advanced;
Sea order: We accept 30% T/T Advanced. 70% will be paid before shipping or L/C at sight
A4: How about the delivery time?
Q4: For air order: 7-10 days after receiving total amount
For sea order: 25~30 days after received 30% advanced
Q5: Will U help us to supply cataes with price list?
A5: As there are many car model with different cataes for Chinese
vehicles. The price is fluctuating frequently, so please send us detail
inquiry by excel list with english parts name & parts OEM number or
picture as you can
Q6: What's your warranty policy?
A6: 9 months warranty from the date of B/L.For long business.
We accept reasonable claim for aftermarket services!
Q7.: Which Markets are FASWIN Specially
A7.: We have good experience for Russian Markets, Middle-East Markets
& Latin America and so on
Q8: Can you sell chinese brand car parts with original packing or car
logo?
A8: Sorry to tell U. We prefer to deal business in a legal way based on
Intellectual property rights rules.