FASTWIN AUTO PARTS CO.,LIMITED
GOODS OF DESCRIPTION;
1) PARTS NAME:CHANGHE MINI TRUCK AND VAN PARTS
2) OEM NO.: CHANGHE CH6353
ORIGINAL PARTS SUPPLIER FOR CHANGHECAR
A) ONE-STOP DISTRIBUTOR SERVICE
B) DELIVERY QUICKLY AS BIG WAREHOUSE STOCK
C) INQUIRE QUICK REPLY AS LONG YEARS AUTO PARTS EXPERIENCE
D) FULL OF COMPETITOR PRICES AS ORIGINAL & GOOD QUALITY
CHANGHE PARTS; CHANGHE SPARE PARTS;CHANGHE AUTO PARTS;CHANGHE FREEDOM PARTS;CHANGHE 1012 PARTS;CHANGHE 1018 PARTS; CHANGHE CH6353 PARTS; CHANGHE AUTO PART;CHANGHE CAR PARTS
FASTWIN ARE ONE-STOP DISTRIBUTOR OF ALL ORIGINALCHANGHE PARTS:
1) CHANGHE CH1018 CH1012 MINI TRUCK PARTS
2) CHANGHE CH6328 CH6353 VAN PARTS
3) CHANGHE FREEDOM CH6390 VAN PARTS
4) CHANGHE IDEAL CAR PARTS
FOR ALL CAR PARTS AS BELOWS:
A) ENGINE PARTS
B) BODY PARTS
C) CHASSIS & SUSPENSION PARTS
D) ELECTRIC PARTS
E) AIR CONDITIONS PARTS
F) GEAR BOX PARTS
And So On^
FASTWIN HAVE A BIG WAREHOUSE STOCK FOR ALL ORIGINAL & GOOD QUALITY WITH SPECIALLY AUTO PARTS AFTERMARKETS EXPERIENCE

OUR PRODUCTS LINES:
A) CHINESE VAN & MINI TRUCK PARTS ( HAFEI PARTS; CHANA PARTS;DFM PARTS;CHANGHE PARTS; HUAYANG PARTS; WULING PARTS; CHERY KARRY PARTS; CHEVROLET N200 PARTS; N300 PARTS; FAW CA1010 PARTS; DAIHATSU S70 PARTS )
B) CHINESE SUV & PICKUP PARTS( GWM PARTS; GREAT WALL AUTO PARTS;ZOTYE NOMAD PARTS; DADI PARTS; ZX AUTO PARTS; SG AUTO PARTS; TIANMA PARTS; SHUANGHUAN PARTS; JMC/ISUZU PARTS; GONOW PARTS; DFAC PICKUP PARTS)
C) CHINESE CAR PARTS( CHERY PARTS; GEELY PARTS; LIFAN PARTS; BRILLIANCE AUTO PARTS; CHANA BENNY PARTS; TIANJIN XIALI PARTS)
D) CHINESE TRUCK PARTS( DFAC TRUCK; DONGFENG TRUCK; JAC TRUCK; JMC TRUCK; FAW TRUCK; YUEJIN TRUCK; FOTON TRUCK; BAW TRUCK)
E) CHINESE BUS PARTS( MUDAN BUS PARTS; YUTONG BUS PARTS; IVECO BUS PARTS; GOLDEN DRAGN BUS PARTS
AND SO ON FOR OTHER CAR PARTS WHICH CHINESE BRAND

FASTWIN TEAM GROUP
1)MAINLY FOR CHINESE VEHICLE PARTS AS PROFESSIANAL.
2)FAST OUR BUSINESS TOGETHER. WIN OUR TRUST AS DEEPLY
3)KEEP STRICKLY FOR ITS PRODUCTS QUALITY AS AGREEMENT
4)EXCELLENT SERVICE FOR ALL BUYER WHATEVER SMALL OR BIG BUYER
5)REASONABLE PRICE AS GOOD QUALITY AS OUR NEGOTIATED
6)ACCEPT REASONABLE CLAIM IF WRONG PRODUCTS, MISS QTY,NO-WORK

More about Fastwin to introduce: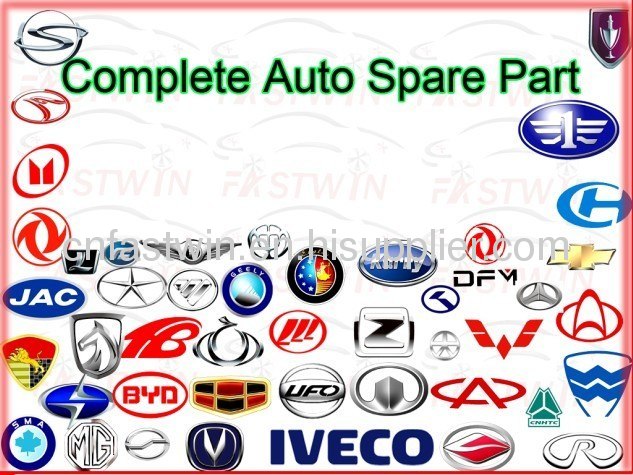 PERFECT PACKAGING AND LABELING
No matter heavy or light items, we use new carton package and wooden cases. We label part by part.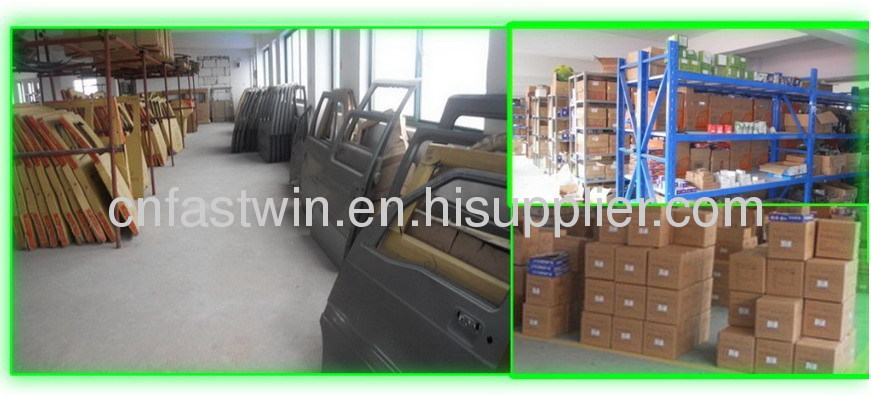 FASTWIN OFFICE AND GROUP
To provide you with timely and professional service sincerely,harmonious atmosphere and environment, sincerely deal with every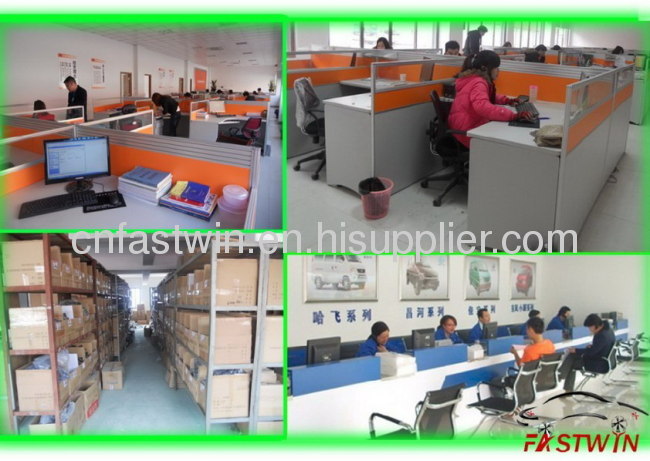 BUSINESS AREA
Europe, South America, Africa, Southeast Asia, North America, Middle East.
FAQ
Q 1: How many brands of auto parts can you supply?
A 1: More than 15 Chinese brands, including Chery, BYD, Changan, Changhe, Dongfeng, FAW, Foton, Geely, Hafei, JAC, JMC, Lifan, Yutong, Zx, etc. We have more than 10000 items.
Q2: Is it possible for you to provide the price list?
A2: Really sorry that we don't provide the price list, we will quote according to the part OEM number you provided.
Q3: What is your MOQ?
A3: Our MOQ is USD3000.
Q4: How is the lead time?
A4: For air order: about 7-15 days after receiving full payment.
For sea order: about 25-30 days after receiving 30% down payment.
Q5: How's your warranty policy?
A5: We will compensate 100% for any claim within 6 months after B/L once the claim is defined.
More about us:
1) One-stop Service: Here Fastwin provides you with all automobile products; you can purchase all automobile products in one stop.
2) Focused – We focus on automobile products.
3) Payment: We accept T/T, Pay pal, L/C at sight and Western Union.
4) Fastwin in business practice – We insist integrity as our business principle, no matter how negative the business environment will be.
5) Fast response - We always reply within 24 hours. We always keep clients informed. "No response, Silence" will never happen.